[Reporter] Hello, Mr. Gao, first introduce to you what products or new design concepts are brought to the exhibition?

[Gao Haizhi] Because we Lanca was officially developing its own products last year, we want to promote our original brand through this Beijing exhibition, that is, our deep embossed products, which are our products. Leading is our most distinctive product. From the situation of Shanghai's exhibition in August last year, some big customers in Europe and America are very interested in our products. In the same industry, Lanka's deep embossed products should be the best at present. With the development of the market this year, Lanka will promote some high-end products.

[Reporter] Can you tell us more about it?

[Gao Haizhi] First introduce our round net products, Mirabel and Villanier. At this exhibition, we are most shocked by our original design, which is our diamond-inlaid product.

[Reporter] The diamond is really pretty.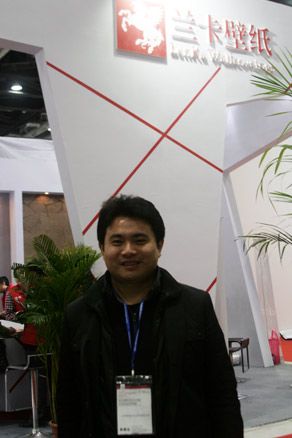 Gao Haizhi, general manager of Lanka Wallpaper
[Gao Haizhi] Because this design should be the world's first. At that time, our design inspiration came from a German designer. When he promoted the equipment, Lanca developed a product through all the teams' spontaneous innovation. We hope that this exhibition will be a good extension of the show. Brand, the other is that we hope that this product can get recognition and recognition from the market, because after all, it is our original, we hope to have great confidence in the promotion of this product through this exhibition.

[Reporter] Then, what changes and trends do you think consumers have made in the purchase of this wallpaper over the years?

[Gao Haizhi] Regarding the trend of wallpaper consumption, I think that no matter what kind of consumption concept, building materials or ordinary consumption in China, consumers mainly pursue a novel feeling instead of ordinary products. The progress of our Chinese is quite fast, including our reform and opening up, and the pursuit of things is changing with each passing day. Today, this thing is very popular. Maybe a new trend will come out one month later.

[Reporter] The frequency of updates is relatively fast.

[Gao Haizhi] So we say that as a company, we must have the ability to continue to innovate. We set up a new company last year. All the products, especially the products we have had since last March, are quite popular in the market and sell very well. Products from August 2011, we expect to be released this year. We can only win the market through continuous innovation. If we just want to attract consumers through old products, it is impossible to sell them. The previous sale does not mean that we will sell well this year.

[Reporter] You just said that our performance last year is relatively good. Can you share with us the situation last year?

[Gao Haizhi] Last year, our brand was just on the market, especially this year, our brand has relatively increased its development efforts. Many old brands, such as some international brands, or some well-known brands in China, say that everyone thinks that the market situation this year is not very good. Of course, I have developed so many new products. Of course, they are very optimistic to tell me that they are going against the trend. In fact, in my own inner world, I also think that it is, why do I still do this? Going to develop? First, of course, it comes from the confidence of our entire team. Secondly, I have the confidence to do this because of the constant construction of the foundation in our market, otherwise I can't say it. Against the trend, no matter how difficult, I have to take risks before, I think it is based on a certain foundation.

[Reporter] Although it may be said that market pressure is relatively large, for new companies, it can be said that opportunities are greater than challenges. So what is the distribution of our current channels?

[Gao Haizhi] The channel distribution is like this. Although our Lanca brand was officially launched from the Beijing exhibition in March last year, because our team has done other brands before, the market foundation is solid, so it only experienced a short one. Years, but in our country, our dealers are probably close to 6,000. Then on this basis, when we promoted the brand last year, we selected a large number of dealers. Our dealers in January were about 2,000, basically all of them are of high quality. In this year, we will not develop too many new dealers in principle, that is, to consolidate our old dealers and do a good job. This year, we may also have plans to build a number of specialty stores, and continue to promote our new products to strengthen our brand strength, including the construction of internal teams.

[Reporter] What kind of development trend do you think we will have this year's wallpaper?

[Gao Haizhi] Everyone talks about the big trend, the downturn of the property is the competition that always exists in the market, and the survival of the fittest is the natural law. Doing it for sure, it depends on how you position it. How to do it is the most important thing. I always think that I am still doing my own things with an enterprising heart, including my brother, my team, regardless of The market situation is good or bad, and we all have high confidence to do this.

[Reporter] Just do it now.

[Gao Haizhi] Yes, I want to start from the basics, about quality, about service. I believe that our Lanca brand, if we surveyed our two thousand dealers now, I believe that the evaluation of Lanka should be very high. Because from August last year, we have already started to pull out a private telephone, that is, after-sales service. The sales hotline is not the most important thing we pay attention to, but one of the links we attach importance to is after-sales service. We are going to focus on the after-sales service. The brand that I want to build now, first of all, launches an unconditional promotion campaign, and then is unconditionally committed to quality issues.

First of all, I don't rule out that our products are quality-free, or that there is no flaws. This is unrealistic because we are industrial products. However, our commitment is that we are unconditionally responsible for the quality of our products, unlike many other brands. Because of the different ways of logistics, they are out of stock, there may be some non-return, or deny or related, because I have been in this industry for many years, I know the dealer's mentality, or the consumer's mentality, We can do it unconditionally.

[Reporter] A brand enterprise is responsible to consumers. I also hope that we will achieve better results this year. Thank you, Mr. Gao.
Cubicle Workstation System is a sturdy panel system featuring full-length steel and aluminum connectors, and can be installed easily by one person. Our honeycomb core construction meets or exceeds industry standard for strength and longevity. We stand behind Cubicle Workstation System, and offer a lifetime warranty to the original owner.
Grow your team size or restructure a department quickly and easily, with panels that reconfigure as needed. An economical solution to all your office environment needs, Cubicle Workstation System is also available on our short time delivery program in more than 20 fabrics and finishes.
Cubicle Workstation
Cubicle Workstation,Office Cubicle Workstation,Contemporary Office Cubicles,4 Seat Office Workstation Cubicle
Cubespace Corporation Limited , https://www.cubespacefurniture.com